Linux
Technical information
Flax is compiled for Linux platform using Clang compiler and uses X11 for UI. Binaries are tested on Ubuntu 22.04.
If your device has multiple GPUs installed you can select one using the cmd line argument: -nvidia, -intel, or -amd. Flax uses Vulkan for rendering.
If your game build runs on Linux as a server build then you can pass -mute -null -headless -std command line arguments to disable specific features (audio, graphics, window, log to std). To elarn more about command line access see this page.
Build options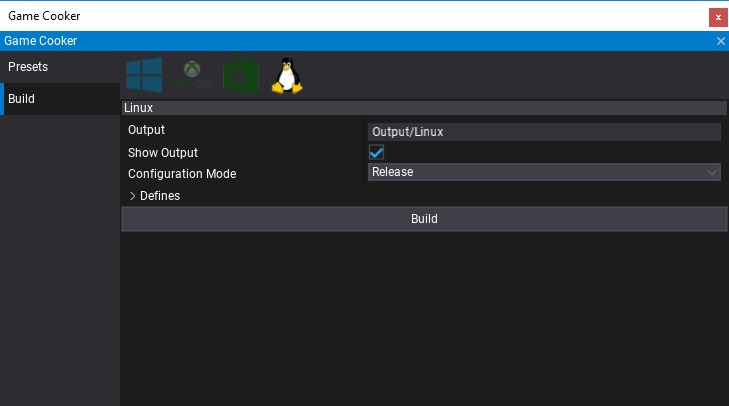 Property
Description
Output
The built game output folder (relative to the project).
Show Output
If checked, after building the output folder will be shown in an Explorer.
Configuration Mode
Game building mode. Possible options:

| Option | Description |
| --- | --- |
| Release | The release build ready for shipment. |
| Debug | The debug build for testing and profiling. Most of the code optimizations are disabled for the best debugging experience. |
| Development | The development build for testing and profiling but is more optimized for runtime than Debug build. |
Platform settings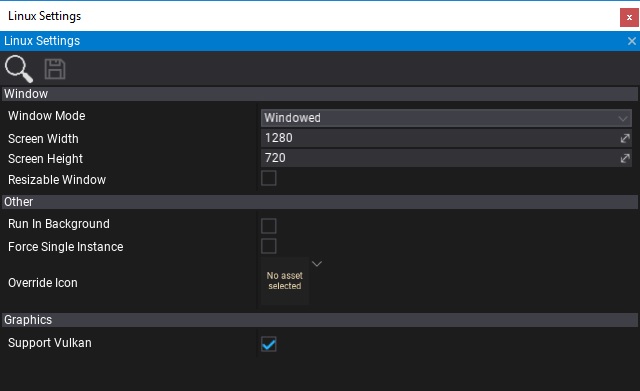 Property
Description
Window Mode
The default game window mode. Possible options:

| Option | Description |
| --- | --- |
| Windowed | The window has borders and does not take up the full screen. |
| Fullscreen | The window exclusively takes up the full screen. |
| Borderless | The window behaves like in Windowed mode but has no borders. |
| Fullscreen Borderless | Same as in Borderless, but is of the size of the screen. |

Screen Width
The default game window width (in pixels).
Screen Height
The default game window height (in pixels).
Resizable Window
Enables resizing the game window by the user.
Run In Background
Enables game running when application window loses focus.
Force Single Instance
Limits maximum amount of concurrent game instances running to one, otherwise user may launch application more than once.
Override Icon
Custom icon texture to use for the application (overrides the default one).
Support Vulkan
Enables support for Vulkan. Disabling it reduces compiled shaders count.