Directional Light
A Directional Light emits light uniformly from a single direction. Directional Lights are useful for simulating large, distant light sources such as the sun.
Light Properties

| Property | Description |
| --- | --- |
| Color | Light emission color. |
| Brightness | Light brightness parameter. Controls intensity of the light emitted by this actor. |
| View Distance | Controls light visibility range. The distance at which the light becomes completely faded. Use a value of 0 to always draw a light. |
| Minimum Roughness | Controls the minimum roughness value used to clamp material surface roughness during shading. Can help with softening specular highlights. |
Shadow Properties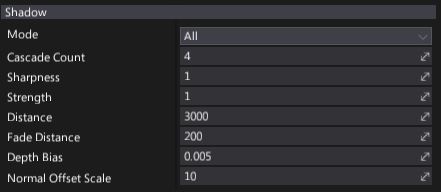 Property
Description
Mode
Describes how a visual element casts shadows. Possible options:


| Option | Description |
| --- | --- |
| None | Never render shadows. |
| Static Only | Render shadows only in static views (env probes, lightmaps, etc.). |
| Dynamic Only | Render shadows only in dynamic views (game, editor, etc.). |
| All | Always render shadows. |

Cascade Count
The number of cascades used for slicing the range of depth covered by the light during shadow rendering. Values are 1, 2 or 4 cascades; a typical scene uses 4 cascades.
Sharpness
Controls shadow sharpness. Can be used to tweak the penumbra width.
Strength
Controls dynamic shadow blending strength. Default is 1 for fully opaque shadows, a value of 0 disables shadows.
Distance
Shadow rendering distance (in world units).
Fade Distance
Shadow fade off distance (in world units).
Depth Bias
Controls dynamic shadow depth bias value. Depth bias is used for shadow map comparison.
Normal Offset Scale
Controls dynamic shadows normal vector offset scale. A factor specifying the offset to add to the calculated shadow map depth with respect to the surface normal.
Contact Shadows Length
The length of the rays for contact shadows computed via screen-space tracing. Set this to values higher than 0 to enable screen-space shadow rendering for this light. This improves the shadowing details. Actual ray distance is based on the pixel distance from the camera.
Note
To learn more about shadows in Flax see this page.
Volumetric Fog Properties

| Property | Description |
| --- | --- |
| Scattering Intensity | Controls how much this light will contribute to the Volumetric Fog. When set to 0, there is no contribution. |
| Cast Shadow | If checked, light will cast a volumetric shadow to Volumetric Fog. Also shadow casting by this light should be enabled in order to make it cast volumetric fog shadows. |
Note
To learn more about Volumetric Fog effect see this page.